DRIP HOSE BOOMS
Drip hose booms are a cost-effective way to spread slurry in soil, due to their large working width. There is minimal soiling of plants, as the slurry is guided through the hoses directly down to the plant roots.
When using a drip hose boom to spread slurry, there is less nitrogen evaporation and almost no odour compared to surface spreading. Drip hose booms come in models with a 12 or 16 m working width. The crane booms are equipped with a safety suspension and all frame parts are galvanised to ensure a long service life for the drip hose boom.
The hoses are raised up during transport. The drip hose booms use Harsø side-mounted distributors with offset cutters. The distributors also work effectively with viscous slurry containing a lot of hay and feed traces. The cutter blades are tempered and, if necessary, can be replaced, thus ensuring reliable, trouble-free operation for years of service.
The Harsø distributors have a high slurry penetration capacity, but little need for hydraulics (max. 40 l/min.), thus placing no restrictions on the tractor equipment used. The hose diameter is 50 mm, which ensures adequate slurry fl uidity and signifi cantly reduces the risk of hose clogs.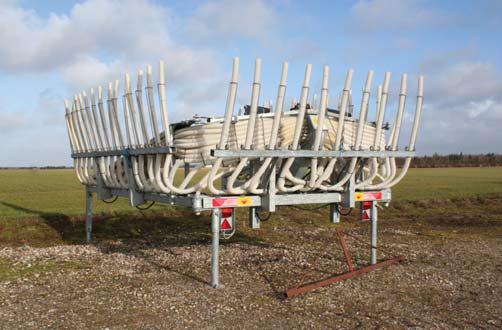 12m and 16m drip hose boom with retractable hoses
Working width: 12m or 16m
Transport width 3.17m
Hoses hydraulically retractable for transport – drip-free model